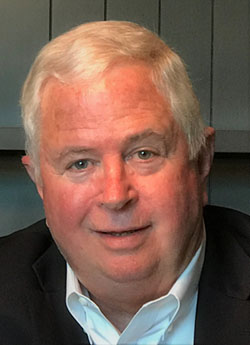 J. Melville ("Mel") Engle
President, Engle Strategic Solutions
Mel was born and raised in Palo Alto, CA and began working and playing ball at an early age. At age 8, he sold seeds door-to-door. Before he headed off for college 10 years later, he had had a Palo Alto Times paper route, sold Pepsi and peanuts at Stanford football games, was a head waiter, dug ditches during the summer for a construction company, mowed lawns, washed cars, worked at Stanford Hospital as an orderly and often frequented the Filmore Auditorium in the evenings. He was a shortstop & pitcher in baseball, a guard in basketball and a goalie in soccer. To this day, Mel is an avid baseball fan and has visited nearly 80% of all Big League stadiums.
Professionally, Mel has had over 25 years' experience in running companies, serving in top-level capacities, such as President, Chief Executive Officer, Chief Financial Officer, Chairman of the Board and other positions.
Mel is currently the President, CEO of Engle Strategic Solutions where his company specializes in consulting and coaching for CEOs and Business Owners.
Mel was recruited by Dey in 2002 to lead the firm.as its President and CEO. Dey was a pharmaceutical company, specializing in respiratory products, including EpiPen. He moved to Napa from Boston, MA. During his tenure, sales increased from $250 million to over $600 million. Mel left Dey in late 2007 after the firm was sold to Mylan Laboratories.
Currently, he sits on the boards of two Medical Device firms: WindGap Medical, Inc., as Chairman, and Precision Oncology as a board member. Windgap Medical is developing a novel alternative to EpiPen.
Mel has been active with many non-profits within the local community. The Napa Chamber of Commerce and State of California honored Mel as Napa's "2007 Citizen of the Year" for his community leadership.
Outside of business, after spear-heading the effort to buy and install batting cages at Garfield Park, Napa's Little League complex, Mel co-led Napa High School's "Believe in Bleachers" campaign and (with 12 others) raised over $600,000 to improve the varsity baseball bleachers, dugouts, restrooms and infrastructure. Two years ago, Napa's newly-minted minor league baseball team, the Silverados, became a reality following Mel's successful search for a team owner.
He is an Honorary Rotarian and the Treasurer of the Napa Valley Wine Tasters Society. He and his wife, Sam, live in Napa and have 3 children and 5 grandchildren. Mel received his MBA from USC and Bachelor's Degree from Colorado University.
A testimonial from a client of Engle Strategic Solutions:
"Mel Engle has a wealth of knowledge of what it's like to be "on top" and making decisions. He takes an in-depth look at what you are trying to accomplish, establishes a plan for action, creates a plan B (ahead of time), organizes a plan to get your team buy-in and work together, and helps you conquer your fears to grow your business. I highly recommend Mel for you if you are a business owner looking to take it to the next level or still learning how to lead your team."
Engle Strategic Solutions
www.englestrategicsolutions.com